The Feast of the Dead in Mexico 2009
From 1 to 2 November 2009 in Mexico will be held one of the most unusual festivals on the planet - the Day of the Dead or El dĂ­ia de los muertos. Its peculiarity lies in the fact that although on these days and commemorate the dead relatives this holiday
At the end of autumn beautiful ancient city in western Austria at the foot of the Alps - Salzburg turns into a world capital of jazz music. From all over the world will arrive well-known jazz performers of different directions from classic jazz to its lat
Every year, hundreds of thousands of tourists visit Switzerland that surprises with its nature and culture. Someone likes quiet secluded vacation in a mountain chalet or summer cottage, someone goes to the health resorts with unique thermal waters, and so
India holds the festival of lights
On this Saturday, all the Hindus of the world in different parts of the world will celebrate the most popular and, perhaps, the most ancient Indian festival Diwali Festival of Lights (Diwali - Festival of Lights). The history of this Vedic festival (also
Jazz Festival will be held in Lillehammer
The festival will take place on several stages. The central stage of the festival will become Rica Kongressalen in the center of Lillehammer. The cost of the ticket to DølaJazz is 50-200 Norwegian kroner. The main purpose of the DølaJazz festival in Lill
The Day of Eger castle in Hungary
In the north of Hungary at the foot of the southern slopes of the Bukk and Matra mountains, just 130 km from Budapest, is located a beautiful old town of Eger. The pride and the main attraction in Eger is Eger fortress, which towers above the city and is
Malta will host the Mediterranean Arts Festival
Just 6 km north-west of Malta is a small, but amazingly colorful island of Gozo. It is on Gozo where on October 23 will be opened the Mediterranean Arts Festival - Festival Mediterranea.
In England will be held the Goose Fair
The famous Goose Fair will be held in Nottingham, UK, from 4 to 8 October. This event in its entirety shows how the British honour their traditions, because for the first time the Nottingham Goose Fair was held over seven hundred years ago and since then,
Bullfighting in Vietnam: the bulls fighting each other
Bullfighting and corrida among most people are associated with Spain, but such spectacles are held in Asia. In the northern Vietnam, in the city of Haiphong, located on the Do Son peninsula, is annually held Choi trau festival which represents the bullfig
Feast of the grape harvest in Tokay
On October 2 in the north-eastern Hungary in the world-renowned center of the Hungarian wine-making the town of Tokaj opens the annual festival dedicated to the grape harvest. Within 3 days a small town on the banks of the river Tisza will be full of tour
Fish Fair will be held in Helsinki
On October 4 in Helsinki will be opened Silakkamarkkinat - Sprat Fair. It is the oldest city event of the Finnish capital, and this year's Fair will be held for the 267th time. It is in autumn in Finland where there is the peak of the season of sprat fish
Asia celebrates the Mid-Autumn Festival
On October 3 this year is the fifteenth day of the eighth month according to Chinese calendar. And on that day will start one of the most poetic celebrations in Asia - Zhongqiu or Mid-Autumn Festival. This holiday is celebrated not only in China but also
Festival of Hungarian cuisine near Budapest
This weekend in a small Hungarian town of Etyek, which is located near the ancient Budapest, will be opened a gastronomic festival «Kezes - labos». At this festival will arrive the best representatives of the culinary art from all around the country.
In Greece, on one of the most popular Greek islands of Santorini, at the end of the 2009 season, opened its doors a new luxury villa, known as Maltese Estate Villa. Maltese Estate Villa combines luxurious interiors, which are also stylish, adjusted and ha
In 2010 in the U.S. will be opened Harry Potter Park
One of the biggest entertainment centers of America - Universal Orlando Resort in Orlando, Florida - in spring 2010 promises to built a new entertainment megapark. It will be "The Magical World of Harry Potter" - a theme park, creation of which is based o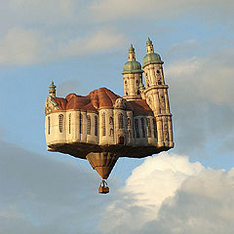 On September 19, 2009 in the Austrian town of Kirchberg, which is situated not far from Kitzbuel, will begin one of the most exciting shows of the Austrian autumn - the Ballon Cup. The holidays in Kitzbuel are in high demand in winter, during the ski seas
In the second half of the 19th century, among the richest people in Finland there was a fashion for summer vacations on the coast of the Gulf of Bothnia. Especially popular with holidaymakers was the city of Kokkola, located in western Finland in the prov
In the north of Italy, just 45 km from Bologna, is situated the ancient town of Ferrara, attracting tourists from all countries with its well-preserved medieval castles and palaces. And it is in Ferrara on September 18 will be opened the festival of ballo
This Wednesday on August 26 in a small Spanish town located in the region of Valencia will be held one of the most popular street festivals in Spain. This festival is called La Tomatina, and for nearly 60 years it is held in the city of Bunol, in the east
At Lake Baikal is opened a new unique tour
Today more and more people prefer to spend their vacation not at the elite and crowded resorts, but at the quiet peaceful places, surrounded by unspoiled nature. Increasingly popular are eco hotels, where there are often no more than two dozens of visitor
In Baden-Baden is opened an updated hotel Radisson Blu Badischer Hof
In the south-west of Germany near the border with France stretches a beautiful city of Baden-Baden - the pearl of the world spa. Famous for its thermal springs, Baden-Baden was famous as the place of recreation of noble persons of the world, here also sta
Everywhere in Spain, from small village to the largest city, a couple of days are devoted to a local fiesta. The classic cause for celebration is the worship of a local saint, but in fact there may be found any excuse - from harvest to a successful return
In England, will be held a large-scale airshow
On the south coast of England in the famous resort town of Bournemouth, which attracts tourists from all over Europe with its mild climate and beautiful sandy beaches, from 20 to 23 August will be a grand Aviation Festival. Last year, when aviafest was he
More than 200 thousand tourists from all parts of Australia and all around the world will arrive to in beginning of August to Brisbane - the capital of the Australian state of Queensland. In this third largest city of Australia, on August 6, will be opene
Cultural festival in Stockholm
In one of the most amazing and unforgettable cities in Europe, which is rightly called the "The handsome man on water" - in Stockholm, next Tuesday will be held the main cultural event of the summer, the Kulturfestivalen. From 11 August and for the next f
Valencia celebrates the Assumption of the Virgin Mary
In the south-eastern Spain, in the administrative center of Valencia, which is so popular among tourists, in the small town of Elche will be held an amazing religious festival. The annual spectacle - the mystery dedicated to the Dormition and Assumption o
The festival of Caribbean music and Latin dancing in Belgium
In the small Belgian town of Hoogstraten, located in the province of Antwerp on the border with Denmark and 90 km from Brussels, on August 14, opens the festival of Caribbean music. This is the largest in Europe Festival of this genre and it is also calle
Hamburg hosts the Hamburger Dom, one of the largest fairs of Germany
Three times a year in the Hanseatic City of Hamburg, on the square Heiligengeistfeld is held the largest fair in Northern Germany with the carousels, snacks, various stands and many others. This fair-festival is known as Hamburger Dom, and this year it be
The best beach of the world 2009 was named
Recreation on the beaches of Turkey is a mass type of tourism in Turkey, which is considered to be a classic version of the summer holidays for millions of Europeans. The beaches of Bodrum, Antalya beaches, beaches of Kusadasi - annually on the Aegean and
To attract tourists to the Polish Gel a ship will be sunk
In a small Polish spa town of Gel, located on the peninsula of the same in the Baltic Sea, decided to sink a warship. This unusual decision was taken by the authorities of Gel, hoping to attract more visitors, especially divers. To do this, in Putsk Bay,