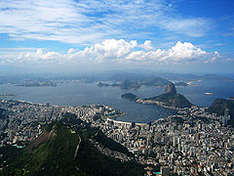 The world's largest floating Christmas tree is in Rio de Janierio
Couple of days ago in Rio the world's biggest floating Christmas tree lighted up with festive lights.
South Africa and local crocodiles as tourist attraction
The new attraction promises to be one of the main entertainments in the park. Today tours to South Africa become more and more popular, and such novelties drive additional interest to the region.
A ski resort will be opened in Brazil
Very soon, near Sao Paulo, one of the largest cities of Brazil, a new ski resort will be opened.
There are always many interesting things in Lapland that surprise tourists. And this year the biggest hotel was built of snow here in recent 8 years
The government of Croatia cancelled Christmas and New Year's celebrations because of the world economic crisis.
Most Unusual Tourists' Complains
Not so long ago an international conference took place in Australia. At the conference tourism specialists made a list of the most unusual tourists' complains.
Many experts say that in the nearest future people will travel on holidays to space as often as they travel to Mallorca, for instance.
The week arround the Emirates Melbourne Cup 2008, the Melbourne Cup Carnival 2008 will take place in Melbourne, the capital of Victoria / Australia.
The festival Sagra dell' Uva takes place in the Italian town of Marino. In accordance with the tradition on this day the white wine comes from the local fountain
Soon the Polish health resort Szczawnica will change a lot. Duke Adam Stadnitski's descendants are trying to make the resorts as popular as it was in the times of the former owner.
Tourists will Pay to Enter Venice
Soon tourists will have to pay 1 Euro if they want to enter Venice.
Beggars Disappear in Venice Streets
Venice is not only a very beautiful Italian city. Now you will find no beggars here.
Not so long ago Dubai police started to make the tourists answer for their immoral behavior and indecent exposure at the beach.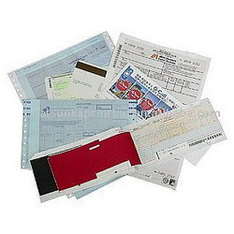 No Airline Tickets Commercials
The other day the European Parliament banned the airline companies to advertise the prices for their tickets that do not include taxes and additional duties.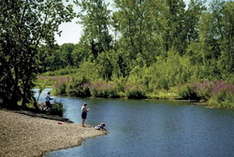 Ontario Resorts are Waiting for Tourists
It is expected that the average temperature in Ontario resorts in July, August and September will be higher than usual. It is good news for those who have already booked their vacation in one of Ontario resorts.
Not only people now have the right to life and liberty… Not so long ago the parliament of Spain adopted a resolution to recognize the great apes' right to life and liberty.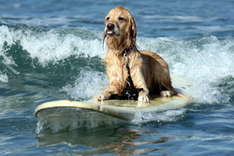 Now even dogs take part in various surfing contests that are organized specially for them in Californian Loews Coronado Bay Resort.
The governor of St Petersburg, Valentina Matvienko, proposed to pass an act according to which the foreign tourists will be allowed to spend 72 hours in the Northern capital of Russia.
The present-day president of France Nicolas Sarkozy also decided to contribute to the history of Paris. He charged ten architects to develop a detailed plan of Paris redevelopment during six months.
On Saturday rather unusual cycle races took place in the Spanish cities of Madrid and Valencia. Unusual because all the cyclists were naked.
A new amusement park will be built in Dubai – Legoland.
Diva Hotel is a five-star hotel that belongs to NaĂŻade Resorts hotel group. There are two clubs for children in the hotel.
Don't Smoke while on Holidays in Turkey
If you smoke and want to spend your vacation in Turkey, you should take a small but very important fact into account. Since May it is forbidden to smoke in public places in Turkey.
Unicorn Investment Bank approved the investment by the Turquoise Coast Investment Company in vacation homes that are planned to be built of the Bodrum Peninsula.
Best World Destinations to Spend Vacations
The tourist net Trip Advisor carried out a survey, the aim of which was to find out what the best vacation destinations are among the tourists nowadays.
People often think of their own tips that they follow during their vacation. Here are some of them. Hopefully, they will help you.
Future of World Tourism is in the Baltic Countries
Germany and the Baltic countries will belong to the most popular tourist destinations as the climate of these countries will become perfect for a beach vacation.
The main reason for love vacation is to revive passion and tender feeling to people one loves.
The idea of the "Museums' Night" appeared in Germany 10 years ago. Since that time this wonderful tradition appeared in many European cities.
Everyone knows that Austria has one of the best ski resorts all over the world. Besides, it offers scenic and beautiful views that will leave no one indifferent to its hill.